Commencement Details
Commencement is scheduled for Saturday, May 15, in KCC's George H. Ryan Gymnasium. In-person ceremonies are planned by academic division. Attendance is limited to those with a ticket. The ceremonies will be live streamed from this page for family and friends to view this milestone moment.
9 a.m. – Liberal Arts and Sciences
Noon – Health Careers
3 p.m. – Business Technology and Human Services
Commencement Live Stream
Nurses Pinning Ceremony - Friday, May 14 at 4 p.m.
Commencement Ceremony - Saturday, May 15
9 a.m. - Liberal Arts and Sciences
Noon – Health Careers
3 p.m. – Business Technology and Human Services
Commencement Speaker
Since graduating from KCC in 1993, Robert de Oliveira has made a major impact on the Hispanic community in and out of the classroom. He was raised in Brazil and moved to the United States to receive a higher education. As a former migrant, de Oliveira understands how challenging it can be to live in a country without knowing the language. He says he couldn't have succeeded without the help of his friends. He now speaks three languages: Portuguese, Spanish and English. One of de Oliveira's missions is to help new migrants adjust to living in the United States.
Program Speakers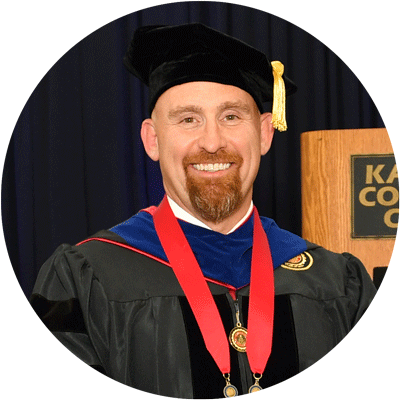 Dr. Michael Boyd
KCC President
Brad Hove
Chairperson for the KCC Board of Trustees
Steve DePasquale
KCC Faculty Association President
Dr. Kiana Battle
Vice President for Academic Affairs
Ariana Ramirez
Student Representative to the Board of Trustees
Degree Candidates
Associate in Arts
Lorenzo CJ Acevedo
Madison Rose Allen
McKenna Grace Allen
Dioselin Andrade
Karah Beth Anker
Jillian Amy Baker
Alexis Renee Ballard
Elizabeth Barajas
Mallory E. Bass
Tabitha Nicole Behnke
Amanda Marie Blanchette
Sara Rebecca Rose Bowman
Alijah Jawaun Boyd
Jada Monet Butler
Oscar Alfonso Camargo Barbosa
Matthew Steven Canady
Anna Mary Carlson
Quinlan C. Carrell
Leoneel Cervantes
Taelar Rae Chiattello
Heather Lynn Coffey
Chandler Josheph Cox
Sierra Alexis Cureton
Haley Rose Daniel
DeAngela Symone Davis
Ana Rosa DeHaro Suarez
Benjamin Eric Demack
Anthony Denault
David Wesley Denson
Danielle Irene Denton
Noah Pombert Dietchweiler
Emily Rose Dluzak
Aiden Charles Ellexson
Kole Laith El-Talabani
Jocelyn Joanna Flores
Kyzhe' M. Foy
JaQueena Freeman
Zitlali Garcia
Caitlin Marie Gerdes
Samantha Jayne Giffen
Jared Gigl
A'kieon B. Gill
Paige E. Glass
Tyler Roger Goselin
Alysha Chevonnne Gould
Dylan Scott Graham
ShyAnne Lorrai Griffiths
Natalie Jade Heagle
Brian M. Hernandez
Lessly Hernandez
Adam Christopher Hertz
Emily Ann Hourihan
De'Andria Eugenia Lori'Anna Hunter
Joseph Michael Jaskula
Faith Belle Keller
Charles Michael Kiger
James Robert LaCoste
HaMim Lillard
Kristin Marie Lowman
Cierra Tatianna Macon
Lanie Donyelle Malone
Koria Ann Manning
Joe Martin, III
Dave John McManus
Grace Elizabeth Mendell
Agnes Laura Menz
Marissa Michaels
Brenda Millan
Ariana Marie Miller
Neyda Yadira Molina
Emma Carlon Morts
Bode Warren Nelson
Damari Lemier Nixon
Jesenia Clavel Ochoa
Ella Shay Orvis
James Joseph Paglin
Jack Caesar Palicki
Daniel Fredrick Penny
Alexis Rae Perzee
Jessica Marie Phelps
Debra Sue Masters Powell
Jenna Marie Raines
Hannah June Rath
Trevor Jacob Reaman
Dalton Michael Reed
Joseph W. Reichert
Rosa A. Rios
Lo'Ryelle Chanal Robinson
Brandon Patrick Rock
Jason Elliott Rodriguez Jr.
Luisa Carina Rodriguez
Anyia Veneica Rogers
Elaina Rose Sais
Kassandra Salinas
Thomas William Sandeno
Ian Alexander Sanders
Hallie Jo Sippel
Rayona Beyonce Smith
Jaime Richelle Starkey
Layla Alexia Studzinski
Keionica Quantisha Tanzie
McKenzey JoLee Testerman
Kelden Levi Tyson
Madeline Kate Vana
Preston Allan VanSwol
Joshua Allen Varner
Jacob Charles Vera-Krypciak
Jolene Rae Wilkins
Katherin Jeanette Williams
Sierra Lenn Williamson Martin
Amy Elizabeth Winkle
Associate in Engineering Science
Cuong Minh Luong
Ethan Ryan Morrical
Dominick Joseph Panozzo
Associate in Fine Arts
Dominick Joseph Panozzo
Vanessa Salazar
Associate in Science
Hannah DeeRenee Bailey
Alondra Barajas
Bryan Carmona
Pricila Carmona
Lauren Elizabeth Cox
Olivia F. Dexter
Cruz Elena Duran Montoya
Luis Jr. Galan
Ethan Drew Geisler
McKenna Leigh Goldtrap
Richard Austin Granger
Cory Hoggins
Jenna Renee Jackson
Matthew Kevin Januski
Karmyn Marie Jensen
Sara Elizabeth Justiz
Kylie Christine Keber
Kenna Marie Kleinert
Jakob Andrew Knox
Cheyenne Lee Kozuch
Samantha Nicole Krauchunas
Leanna Lee
Trevor Michael Meier
Brenden Matthew Minor
Peyton Madisen Mullin
Dylan Andrew Payne
Zachary Matthew Peeken
Nicole Marie Pierson
Alexys Nicole Ramirez
Alec Edward Robinson
Jacob Arthur Rodriguez
Kevin Stephen Roedl
Maci Kae Romero
Elizabeth Ellen Sanstrom
Olzea Kaylynn Smolinski
Christian Werner Stadeli
Julian Robin Stadeli
Caden Kenneth Peter Talbot
Riley Michelle Thompson
Dayanaira Latrice Thurman
Hailey Marie Ullman
Yenikza Villagomez
Jacob Dale Wilken
Peyton Alan Williams
Associate in General Studies
Rhonda Lyshon Addison
Alexis Gabrielle Britton
Alfha Calderon
Amber Marie Chase
Annie Jean Clatterbuck
Crystal Anne Coffey
Becky Ann Courtney
Hannah M. Galen
Jesus Enrique Garcia
Amanda Grace Gaytan
ShyAnne Lorrai Griffiths
David A. Guzman Gramajo
Nathan Zachery Jacobs
Cheyenne Lucinda Jones
Caitlyn Nicole Lease
Kimberly M. Licht
Tondra L. Mann-Niswander
Mikayla Sky Martinez
Catherine Gwen Mau
Basil Zayed Mohammad
Shaylee Noel Montgomery
Robin Marie Palinski
Mitzi Perez
Mitzi Guadalupe Rosales
Natalie St. Myers
Veronica Eugenica Tanzie
Jaqulyn D. Thomas
Alex Tsirikos
Julian Uriostegui
Yorelly Villagomez
Stephanie Wilson
Associate in Applied Science
Agri-Hort Technology
Tylar Richard Swanson
Analee Villagomez
Air Conditioning & Refrigeration
Herman Servando Martinez
Business
LoRetta Monique Cousins
Kimberly Dawn Gaddis
Rochella Glover
Taylor Marie Grimes
Elizabeth Christie James
Samantha Renee Nelson
Cecilia Ortiz-Carmean
Jillian S. Rojas
Alan Patrick Rzyski
Computer Graphic Technology
Brianne Elizabeth Settle
Jacob Alan Bramer
Early Childhood Education - Director
Dajah Joanne Bibbs
Early Childhood Education
Holly Marie Brown
Jennifer Gail Soyer
Electrical Engineering Technology
Brayden Timothy Bailey
Isaac Brazel Brown
Cade A. Harrison
Zakary Michael Jackson
Zachary Thomas Jensen
Daniel Clay McDonald
Wayne Joseph Simpson
Michael Donn Thompson
Jacob George Yuhasz
Paraprofessional Educator
Logan L. Nesselrodt
Law Enforcement
Anicah Grace Bruner
Daniel David Dralle
Yuliana Gaytan
Deicy Maria Gonzalez
Tyler Jordan Holmes
James Luis Johanek
Augustina Christina Rios
Joseph Patrick Ross
David Matthew Schultz
Kobe Michael Suprenant
Aiden Joseph White
Manufacturing Technology
Peter F. Dato, II
Christopher Garrett Gottschall
Ronald J. Mantooth
Zachary Rian Miller
Nicholas James Mullins
Jammie N. Shell
Aiden Joseph White
Medical Laboratory Technology
Jose Guadalupe Diaz
Denise Reone Gidlund
Delaney Ashlyn Laseman
Kelly Mancuso
Shareáe Unique McKinney
Michael J. Morgan
Chloee Ardell Schuldt
Rachel Kolleen Shride
Kaleigh Smith
Nursing-Registered
Sophie Renee Acquaviva
Evelyn Alexis Alvarez
Callie Beaupré
Jesse Bergmann
Stephanie Lynn Bishop
Stacy Elise Blake
Holly Elyse Brown
Krista Dawn Buza
Kala Michele Davis
Shanette M. Davis
Amy Louise Denault
Erica Elizabeth Dundas
Morgan Elizabeth Freitag
Joshua Ryan M. Fritz
Taylor Lee Frye
Alexandra Lucy Garcia
Leslie Maria Gaytan
Alanna Jessie Glogowski
Alysha Chevonnne Gould
Skylar Joan-Carolyn Hamblen
Zoey M. Harer
Latrisse Josephine Hayward
Kendreéa Marie Hodges
Joseph David Hudik
Jazzmyn Jean Johnson
Hannah Lynn Jonas
Jackelyn Marie Jones
Cody James Kelch
Carley Noelle Kuntzman
Mark Andrew Kurzejka
Brittany Marie LaFond
Ethan S. LeBeau
Amanda Marie Lopez
Macenzi Rae Maisonneuve
Haylie Ella-Louise Marrs
Lenore Latrice Mason
Grace Kathleen Masterson
Tierra Aminah Maxwell
Katlyn Marie Mayo
Courtney Lynn McMaster
Jordyn Michelle Mecklenburg
Judy Audelia Medina
Ivon Virginia Mercado
Magen Marie Meyer
Jennifer Marie Minor
Kristine Marie Neuby
Jessica O'May
Makenzie Jo Overacker
Marthe Ines Pene Djine Siewebe
Elizabeth Kay Rocha
Sarah Nicole Sarkozi
Ashley Nicole Silvey
Erin Justine Smith
Paul Anthony Staneart
Julie Szobar
Sarah Jean Tierney
Meara Margaret Tilstra
Jessica Catherine Torres
Christina Ann Tsiamas
Joshua Nathaniel Washington
Monique Webster
Katrina Paige Whitten
Brenda Sue Williams
McKenzie Lynn Yates
Gregory H.D. Zaleski
Malgorzata Zeglen
Lauren Taylor Zell
Office Professional
Jamie Leigh Bonds
Lizbeth Lopez
Olivia Melgoza
Katherine L. Morris
Katherine R. Sullivan
Aubrey Brianne Williams
Vasha Katrina Woods
Paralegal/Legal Assist Studies
Lisa Marie Trahan
Paramedic
Zachary Scott Bolda
Andrew Jacob Douglas
Hayden Wyatt Peters
Physical Therapist Assistant
Carly Caitlin Bernardy
Nathan James Bowers
Elizabeth E. Daverin
Shannon Marie Ducat
Kelsey Lee Elam
Madison Noel Gayheart
Samantha Lynn Gustafson
Anna Leigh Hunte
Sierra Darlene Moyer
Kelly Kathleen Runyon
Jacquelyn Lorin Schopf
Respiratory Therapist Assistant
Danielle Desiree Arteaga
Viviana Baeza
Lindsay Nicole Eddy
Cesar Abraham Garcia
Jasmyn Michelle Garcia
Jacob Hutter
Scott Aaron Hutter
Samantha Ann Lippner
Itzel Guadalupe Lopez
Paige Leigh Medina
Erin Elizabeth Moran
Tanya Eryka O'Connor
Jacquelin Villagomez
Lauren Brittany Ware
Radiography
Kelsey Rae Angeloni
Brooke L. Arseneau
Heather Marie Benson
Morgan Aretha Dorsey
Amanda Nickole Fremouw
Cassidy Marie Gerdes
Cheyenne Jade Koehne
Erin M. Reilly
Hannah Rose Selvey
Carley Rayann Shivers
Chalon Lashae Smith
Kristy Evelyn Smith
Haleigh A. Sutter
Tresa Marie Tibble
Kelsey Nicole Tolmer
Welding Technology
Matthew Lloyd Cato
Rolando Refugio Contreras
David James Haut II
Nathan Zachery Jacobs
Nicholas James Mullins
Jeffrey Evan Pestlin
Nathan Aaron Whitlock
Advanced Certificate Candidates
Agri-Hort Horticulture
Susan Marie Patrykus
Allison Leann Pree
Agri-Hort Production
Tylar Richard Swanson
Coding Specialist
Rebecca Nicole Apking
Bailey Brianna Dorsch
Hayley Marie Edmonds
Jordan Louise Huddlestun
Shelina Lanette Jessup
Computer Graphic Technology
Jacob Alan Bramer
Fleur K. Breuker
Brianne Elizabeth Settle
Early Childhood Education
Jennifer Gail Soyer
Electrical Technology
Michael Donn Thompson
HVAC/R Service
Grant Barber Sparenberg
Instrumentation & Process Control
Brayden Timothy Bailey
Isaac Brazel Brown
Kenny Carmona
Zachary Thomas Jensen
Wayne Joseph Simpson
Law Enforcement
Anicah Grace Bruner
Daniel David Dralle
Yuliana Gaytan
Augustina Christina Rios
Joseph Patrick Ross
David Matthew Schultz
Kobe Michael Suprenant
Michael Steven Voechting
Aiden Joseph White
Machine Tool Technology
Zachary Rian Miller
Nicholas James Mullins
Manufacturing Industrial Maintenance II
Peter F. Dato, II
Kyle James Haut
Ronald J. Mantooth
Jammie N. Shell
Manufacturing Machine Tool II
Zachary Rian Miller
Nicholas James Mullins
Manufacturing Welding II
Nicholas James Mullins
Isaac Brazel
Millwright
Drew Allen Hines
Office Assistant
Jamie Leigh Bonds
Lizbeth Lopez
Olivia Melgoza
Katherine L. Morris
Katherine R. Sullivan
Vasha Katrina Woods
Practical Nursing
Cierra Neicae Alexander
Crystal Arambula
Megan Elizabeth Conrad
Kaylee Rose Fahnestock
Darcy K. Gibson
Dianna Karina Gomez
Janet Marie Hasting
Christine Ann Kem
Bryana Alyce Nambo
Roxanne C. Neil
Iridian Alejandra Sandoval
Brandi Ann Sorensen
Kristy Marie Tomsich
Monique Webster
Theresa Antionette Woodle
Welding
Matthew Lloyd Cato
Rolando Refugio Contreras
Nathan Zachery Jacobs
Nicholas James Mullins
Jeffrey Evan Pestlin
Nathan Aaron Whitlock
Award Recipients

2020 John Fulton Distinguished Alumni Award – Walter "Chip" Hasselbring
Outstanding Faculty Award - Full time - Jennifer Pecora Kettley
Outstanding Faculty Award - Part time - Josh Riley
---
All-Illinois Academic Team
Nominated for the All-USA Academic Team
These students are members of Phi Theta Kappa, the international honor society of two-year colleges. They have been selected for the All-Illinois Academic Team, a special recognition based on outstanding academic performance and service to the college and community. Each two-year college in Illinois may nominate two students per campus. As members of the All-Illinois Academic Team, they also are nominated for the All-USA Academic Team.
Alexis Ballard
First generation college student
Blood donor
Included in Presidents list
Mental health technician at Riverside Medical Center
TRIO Student Support Services member
Allen Pizano
First-generation college student
Plans to earn a bachelor's degree in Business
Interested in entrepreneurship, marketing and advertising
Frequently volunteers to help his neighbors
Academic Regalia
Academic dress is a colorful and impressive feature of a college commencement. A rich tradition reaching back to scholastic life in 14th century England has established the use of distinctive gowns and hoods in academic ceremonies. A person holding a bachelor's, master's or doctoral degree wears academic dress appropriate to his/her highest degree.
Associate Degree—Gown is black with pointed sleeves, mortarboard cap is standard, tassel is in school colors.
Gold honor cord and tassel signify 4.0 (A) scholastic achievement.
Silver honor cord and tassel signify 3.80 to 3.99 scholastic achievement.
Purple honor cord signifies membership in Lambda Epsilon Chi National Honor Society in Paralegal/Legal Assistant Studies.
Gold stole and tassel signify membership in Phi Theta Kappa honor society.
Peach honor cord signifies membership in the Alpha Delta Nu-ETA Chapter of the National Organization for Associate Degree Nursing.
White stole with and American flag along with red, white and blue accents distinguishes graduates who have served in the Unites States military. This includes those currently serving on active duty, veterans, reservists, and National Guard members.
Red, white and blue cord signifies membership in SALUTE Veterans national Honor Society.
Bachelor's Degree—Gown is black with pointed sleeves, open wide at the end. Mortarboard cap is standard. Tassel is black or colors of major field of study. The hood is 3 feet in length and hood trim is 2 inches wide.
Master's Degree—Gown is black and has a closed sleeve with a tail that hangs down from the base of the sleeve. The rear part of the oblong tail is cut square while the front has an arc cut away. Mortarboard cap is standard. Tassel is black or colors of major field of study. The hood is 3½ feet in length and hood trim is 3 inches wide.
Doctoral Degree—Gown is black with bell-shaped sleeves with three velvet stripes. Instead of a mortarboard, the cap is a tam-o'-shanter. Tassel is black or gold. The hood is 4 feet in length and hood trim is 5 inches wide.
The hoods for bachelor's, master's and doctoral degrees are trimmed and lined with a satin fabric in the official color of the institution that granted the degree. The trim color on the hood, by contrast, is distinct to the subject of the degree, with associated colors listed here.
| | |
| --- | --- |
| Agriculture | Maize |
| Arts, Letters, Humanities | White |
| Commerce, Accountancy, Business | Drab |
| Dentistry | Lilac |
| Economics | Copper |
| Education | Light blue |
| Engineering | Orange |
| Fine Arts, including Architecture | Brown |
| Forestry | Russet |
| Journalism | Crimson |
| Law | Purple |
| Library Science | Lemon |
| Medicine | Green |
| Music | Pink |
| Nursing | Apricot |
| Oratory (speech) | Silver gray |
| Pharmacy | Olive green |
| Philosophy | Dark Blue |
| Physical Education | Sage green |
| Public Administration, including Foreign Service | Peacock blue |
| Public Health | Salmon pink |
| Science | Golden yellow |
| Social Work | Citron |
| Theology | Scarlet |
| Veterinary Science | Gray |
Ceremonial Insignia
KCC's ceremonial mace is carried at the front of the academic procession at commencement. The mace demonstrates the official authority of the proceedings. Historically, the use of a mace dates back to the middle ages as a symbol of power and influence.
KCC's mace was hand-turned and took 20 hours to construct. It is made of black walnut, and stands at more than 3 feet long. The bronze laurel leaves encompass a medallion bearing the college's name and logo. The mace and its stand were custom-designed and handcrafted by artisan Richard Condon in 2015.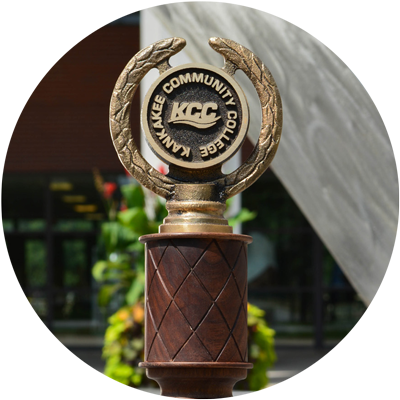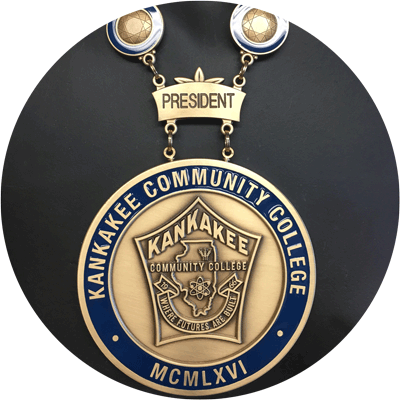 The official President's Medallion is regarded as part of the permanent insignia of the college, along with the academic mace. The chain represents the trust and authority invested in the president by the board of trustees. The chain is placed on the neck of the new president when he or she is installed in office. It is worn by the president along with other academic regalia at official celebrations, such as inaugurations and commencement.
KCC's President's Medallion features the college name, seal and official shades of red and blue. It is cast in bronze and measures 3.5 inches in diameter. The medallion is anchored by an ornamental chain, with links separated by a plate with the word President. As a permanent insignia of office, the President's Medallion is passed to each succeeding president of the college.